Big news! E&S was awarded gold at the 2023 Pinnacle Awards gala for our THREE insurance industry risk campaign.
Hosted by the American Marketing Association (AMA) Omaha chapter, the annual Pinnacle Awards gala honors the most successful marketing campaigns implemented in the last year. E&S's gold-winning insurance industry risk campaign was one of 80 entries submitted across six marketing categories – communications, public relations, promotions, digital media, total marketing campaigns and video.
Campaigns are reviewed by AMA sister chapters and awards are given based on campaign strategy, approach and results.
With the objective of increasing business insurance leads for THREE within the restaurant industry, E&S leveraged personalized content, data-focused targeting and strategic testing plans to launch an integrated digital media campaign for the online business insurance provider. The messaging introduced a common industry risk, then showed how one policy from THREE would protect them from all the major risks facing their business.
"This campaign directly aligned with our purpose at E&S: 'to seek the truth and use it to make an impact'," said Katie Herzog, chief client officer at E&S. "Not only did we strategically support our client, but we also made an impact for small businesses who may have been unaware that their current insurance coverage wouldn't support the needs of their day-to-day operations. THREE's all-in-one insurance policy would be there when they needed it most – and at the end of the day, that felt good."
Take a look at our award-winning, digital media campaign:
Business insurance is very complicated. Typically, business owners will cobble together an assortment of complex insurance policies from multiple providers. But even with a portfolio of policies, these owners are often left with gaps in their coverage. Most not knowing what those gaps are until they file a claim.
To educate on the pitfalls of a cobbled approach, we created a campaign that addressed some commonly overlooked risks in the restaurant industry (ones typically not covered by general insurance). Then, we shared how just one policy from THREE would protect them from that and other major risks their business may face.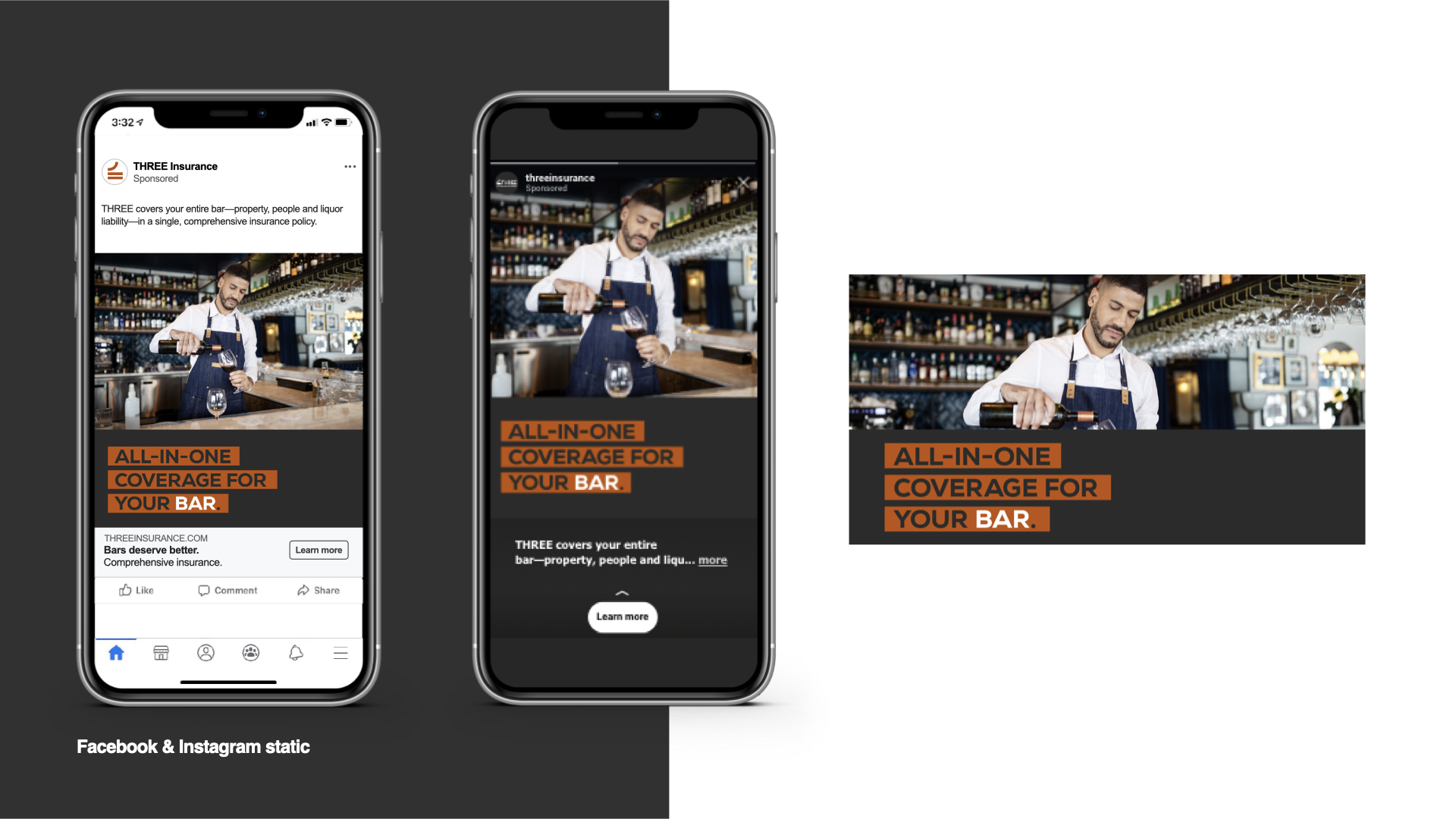 We knew from experience that our target audiences were on Facebook and Instagram and that we would need multiple versions of creative for each ad format to maximize the campaign's performance. In doing that, we leveraged static graphics and videos in both square and vertical formats with an extensive library of day-in-the-life photography and videos to connect with business owners.
The result? Our industry risk creative not only generated more than 250 new leads for THREE, it also outperformed any other social creative we had in market during the same period (Q4 2022). We saw a lift in CTR (+61%) and conversion rate (+47%) and decreases in both CPC (-47%) and cost per lead (-50%). Talk about a campaign with impact!
Like what you see? Got a problem that needs solving? Let's chat.
Please reach out to Katie Herzog for more information: katie.herzog@ervinandsmith.com