A beloved luxury brand repositioned for online expansion.
For more than 150 years, Borsheims has been a destination for luxury jewelry and gifts in Omaha. With the shifting digital landscape, they needed a partner to help solidify their strategic direction and drive brand consistency across every touchpoint — in store and online.
Borsheims has a tried-and-true sales approach for local, in-store audiences. But to capture online sales potential and build awareness with digital audiences, their small marketing team would need to create a higher volume of promotional assets throughout the year. If we could set the creative and strategic vision, their team would have more time to apply it across channels.
First, we established an updated brand position and visual identity to help them appeal to a more diverse set of audiences. Then, for every major season or campaign initiative, we developed a comprehensive creative guide with a flexible library of design and messaging assets. By taking the guesswork out of creative execution, the Borsheims marketing team could fulfill ongoing promotional needs with greater efficiency, speed and strategic mission. That included:
Seasonal promotions
Product/category launches
Email marketing
Customer engagement
Since the inception of our partnership several years ago, Borsheims has significantly expanded their e-commerce capabilities to handle a new influx of online sales. Our creative guidance has empowered them to produce campaign content more efficiently, and with greater creative variety, while honoring the brand presence their most loyal customers know and love.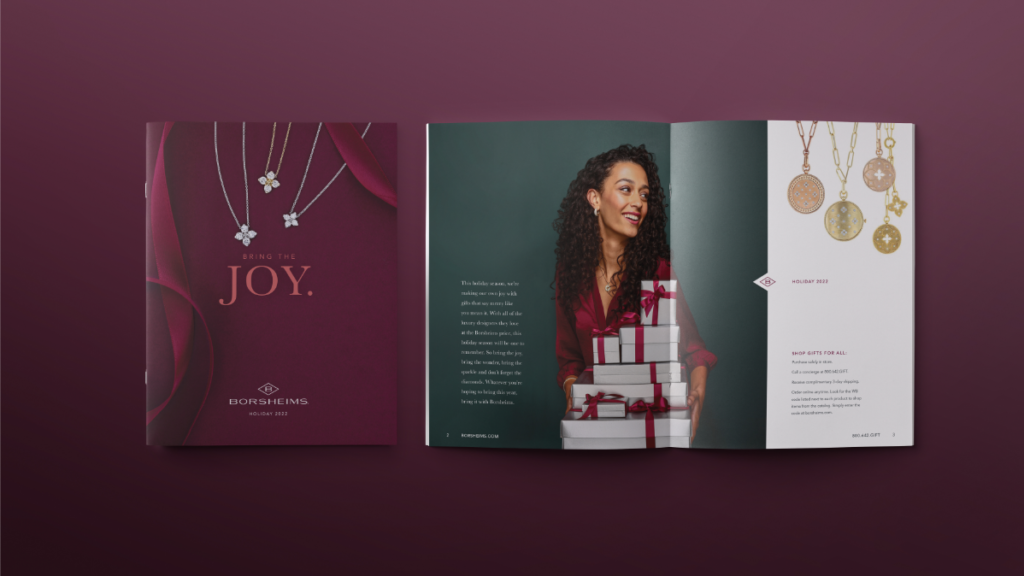 Custom video and photography to support each campaign.
Custom identity and launch creative for Borsheims' first-ever branded collection.